website  watertownhistory.org
 ebook  History of Watertown, Wisconsin
Kieckbusch_House
810 Jones
1913
<![if !vml]>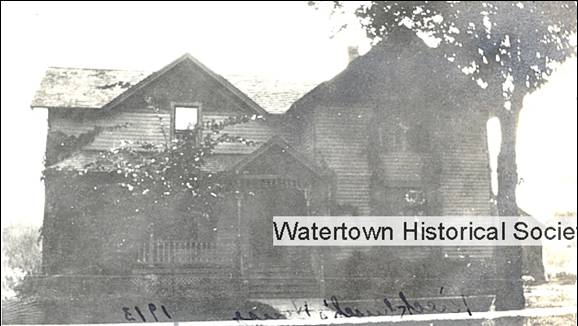 <![endif]>
810 Jones,1913, Fred Kieckbusch House                          WHS_004_NT_003
Cross Reference:
Fred Kieckbusch, 1913, Image of, WHS_004_NT_002
Watertown Daily Times, 03 06 2007
The 2006 House Beautiful Award was presented to Heidi Roth of 810 Jones St. by the Watertown Arts Council.
Sandra Pirkel created the pen and ink watercolor drawing of the home.
The home was purchased in 1914 by Roth's grandfather, John Bhend, for his parents, Mr. and Mrs. August Krueger. For a time, the Bhend family used it as a rental property, and over the years the residence fell into disrepair.
Roth acquired the home from her family in 1994, and thus began a complete overhaul of the property, which included gutting the interior of the home, a new roof, and raising a roof to accommodate an addition to the upper floor.  A deck has also been added to the rear of the home.  Much of the interior and exterior work was completed by Roth.    She did use a few general contractors for the major construction projects. The home is considered a three quarter structure. In the renovation process, Roth wished to keep the traditional style of the home with Watertown brick and matching shutters and awnings. She also renovated the bam, which is behind the house. The Jones street location provides an easy walk to downtown or Riverside Park.