website  watertownhistory.org
    ebook  History of Watertown, Wisconsin
Julie Ann Fabric Shop
208 E Main Street
<![if !vml]>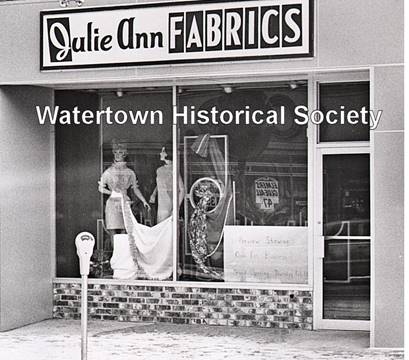 <![endif]>
Click to enlarge
1969
02 12       JULIE ANN FABRIC SHOP OPENS
The Julie Ann Fabric Shop, 208 E Main Street, will hold a grand opening event according to Royce Rowedder, owner and operator of the new shop.
The new store features a wide selection of quality goods and fabrics for home sewn fashions in coats, dresses, suns and sportswear. Famous brand name fabrics including Windjammer, Indianhead, Serano in wools, synthetics, laces and cotton are available.
The interior of the building was completely remodeled and redecorated.  The modernization project included a new store front.
In addition to the fabrics, the store carries a wide range of laces, trimmings, buttons, appliqués, sequins, rhinestones and other accessories.  There is also a complete selection of well known patterns.
Julie Ann employees include Charlotte Brink, Mrs. George (Skippy) Prahl, Phyllis Klecker, Marianne Schmidt, Nana Pirkel. Edna Krause and Meta Kuckkahn.
Mr. Rowedder came to Watertown from Waukesha, where he had lived for the past eight years.  He has been employed by the J C. Penney Company for the past 14 years, most recently as a merchandise manager at the Capitol Court store, Milwaukee.
Mrs. Rowedder is employed as a speech therapist in the Watertown school system.

History of Watertown, Wisconsin