website  watertownhistory.org
    ebook  History of Watertown, Wisconsin
Emily Morgan Blodgett Huse
A Letter from a Wisconsin Pioneer
1847
W.F. Jannke III
<![if !vml]>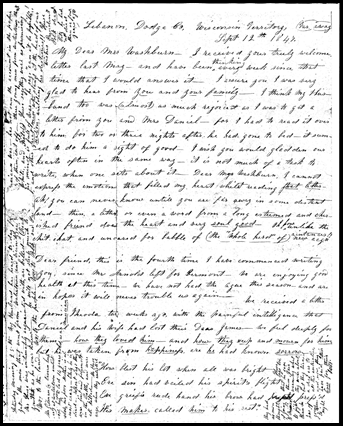 <![endif]>
Click to enlarge
On a recent visit to the archives of the Wisconsin State Historical Society, I came across a letter written in 1847 by a woman who had just recently moved to the Town of Lebanon, WI. Since my ancestors founded Lebanon, I was naturally curious as to what this letter contained.
So after waiting patiently for the archivist to retrieve the document in question, I was confronted with an aged and damaged period piece. The letter, written by a Mrs. Emily Huse in 1847, was written in English in a delicate hand. She obviously had little paper to spare, since she crammed it full of news, over 2,000 words worth! Not content with just filling the paper in the usual way, she also took to writing notes in the margins. When she had finally finished her missive, which took her several days to do, she sealed it with a wax seal and sent it to her dear friend back in Randolph, Vermont, a Mrs. Olive Washburn.
Sadly, when Mrs. Washburn opened the letter she tore it where the wax seal kept it closed and so there were several words lost, though in most cases they are easily "read into" the text. In transcribing the letter, I have changed punctuation in order to establish a better flow. Mrs. Huse tended to use dashes instead of periods or commas. Spelling and emphasis has been retained as she wrote.
Doing a little digging through the archives at Ancestry.com gives us more insight as to who the writer of this letter was. Her name was Emily Morgan Blodgett Huse and she was the wife of Hiram S. Huse, a shoemaker and farmer from Enfield, New Hampshire. She was born in Randolph, Orange Co. VT about 1810. They married probably sometime in the late 1830s and had one son who survived them, Hiram Augustus Huse, a lawyer (1843-1902). Another child, Rea, died in infancy.
Emily was descended from Revolutionary War soldiers. Her parents were Alfred and Abigail (Parmley) Blodgett; her grandfather was Henry Blodgett; and her great-grandparents were James and Theoda (Wallbridge) Blodgett, all hailing from Randolph, Vermont. Her husband was also descended from a Revolutionary War veteran.
The Huse family moved to the newly founded settlement of Lebanon, WI in 1845 and though she says in her letter that she loved her new home nevertheless Emily and her son were back in Vermont by the time of the 1850 census. Hiram, her husband, seems to have stayed in Lebanon, at least through 1853, for an article appeared in the Watertown Chronicle, dated September 7, 1853 which read:
"[Thanks]…To H. S. Huse, of Lebanon, for six quarts of bush cranberries.
We may state in this connection, that both the bush and marsh cranberry
abound in the Rock River woods…"
By 1860 the family was once again reunited according to the census for that year, and for the years following. They lived out the rest of their lives in Vermont. Emily Huse died in 1890. Her husband died in 1895. They are buried in Randolph, Vermont.
The addressee of the letter, Olive Washburn, was also a native of Randolph, Vermont. She had been born Olive Edson in 1802 and married Titus Washburn, a farmer, in 1832. She died in Randolph, VT in 1870.
This letter gives one a true sense of the hardships and of the labor that was necessary to those who chose to live on "the frontier." Mrs. Huse seems unnaturally morbid at times and rather pessimistic, and she and her husband certainly have decided anti-war views about the Mexican War. They also have a low opinion of anyone other than those who came from Vermont. This, and possibly a crop failure, may have spurred them on to returning to the bosom of their family back east.
_____________________________________________________________________________
Sent to Mrs. Olive E. Washburn
Randolph
Orange Co.
Vermont
Lebanon, Dodge Co, Wisconsin Territory, Far away
Sept. 12, 1847
My Dear Mrs. Washburn —
I received your truly welcome letter last May and I have been thinking every week since that time that I would answer it. I assure you I was very glad to hear from you and your family.  I think my Husband too was (almost) as much rejoiced as I was to get a letter from you and Mrs. Daniel, for I had to read it over to him for two or three nights after had gone to bed — it seemed to do him a sight of good.  I wish you would gladden our hearts often in the same way — it is not much of a task to write, when one sets about it.  Dear Mrs. Washburn, I cannot express the emotion that filled my heart whilst reading that letter. Ah! You can never know until you are far away in some distant land — then, a letter or even a word from a long esteemed and cherished friend does the heart and very soul good. Oh how like the chit chat and uncared for babble of "the whole herd" of new acquaintances.
Dear friend, this is the fourth time I have commenced writing you since Mr. Arnold left for Vermont.  We are enjoying good health at this time.  We have not had the ague this season and are in hopes it will never trouble us again.
We received from a letter from Theoda [Blodgett, Emily's sister 1805-1896] two weeks ago with the painful intelligence that Daniel [believed to be Daniel Huse, Hiram's brother (1782-1851)] and his wife had lost their Dear James.  We feel deeply for them — how they loved him, and how they weep and mourn for him, but he was taken from happiness ere he had known sorrow —
"How that his lot when all was bright—
Ere sin had veiled his spirits flight
Ere grief's rude hand his brow had press'd
His maker called him to his rest."
I thought very much of James. He always reminded me of our little loved Rea, that was so soon taken from us.  My Mother loved him and James loved her too, but they are gone, and soon we must all follow them.  Oh, how painful 'tis to part with those that are bound to us by such strong and tender ties, but 'tis a pleasant thought that we may meet them again, where there will be no more parting — no tears nor grief. I fear that James' death will be the means of bringing his Mother very low again.  I think perhaps she may bear the heavy affliction as well as her husband.  The Lord gave, and He has taken him away from them.  "It is well" for their Heavenly Father hath done it.  May Julian be spared to them and may they have joy and comfort in this affliction.
"Earth has one sorrow, that Heaven cannot heal."
My Husband works at Watertown yet all the time that he can leave home.  He came home last night and will start off again [missing word] early in the morning.  Mrs. Washburn, you know how it is for [you] have lived a long time after the same fashion.  You say that you are tired of it, and so am I, but so it must be — we will make the best of it, hoping that some day these things will turn and change, and fix round a little more to our minds.  "Better days are coming."  Our husbands will not always have to go to Watertown and to the Mill. How do you live this season? Is your husband still away?  How is his health? Huse says if he will come to Wisconsin he will learn him to fish with a fly hook.  He would be very glad to receive a letter from your Husband and says he shall write to him, but he does not have time to write any one.  He has commenced quite a number of letters to his "good old Vermont" friends that lay unfinished and will ever remain so, for he never finishes a letter after he once leaves it.  Tell your Children that we often talk about them.  Hiram Augustus says he shall always remember their names, if he forgets 'most all the rest about them, "for their names will always be Sarah and Franklin [Washburn, a doctor (1837-1862)], and their little white dog's name was Rolla."
I think your children must feel very bad to part with their dear Cousin James. They were always playmates together.  They loved him in life and they will not forget him now [that] he is dead.
I calculated to finish this to-day but my Husband thinks I had better wait till Gamaliel gets home.  We are looking for him every day.
Monday afternoon Sept. 20th. Dear Friend, once more I take my pen to write you a few lines.  We are well, all except our Eyes, mine are so bad I can hardly see to write.  Two weeks ago to-day Hiram Augustus was taken with a pain in his eyes.  The inflammation was so bad and they were so much swollen he could see but very little for four days.  They are almost well now. Mine are bad yet.  The inflammation began in mine last Tuesday. For three days I was "blind as a bat."  I think it much worse to be blind than deaf.  My eyes (most likely) will be well soon, but my ears will never be good for much.  I can hear a little, about the same as when I left Vermont.  I ought to be thankful for that, and hope I am.  But 'tis very afflicting to be deprived of hearing.  Oh, how often do I wish that I had Ears, that I could hear!!! But 'tis all right.  Why should a living man complain?
Mr. Arnold arrived at his home Saturday the 18th.  We received the things sent by him Saturday evening. Dudley and Gamaliel were down to see us yesterday.  They had a rather tiresome journey - a bad time coming to the lakes.  I shall write to some of our friends soon.  I suppose Mrs. Joseph Blodgett has got home tho' we have not heard from her yet.  Mr. Granger's family are some of them going to Jefferson in a few days so then we shall hear from her visit to Vermont.
Theoda wrote us that "Warner Aldrich is dead." [Warner Aldrich died June 20, 1847 and is buried in East Cemetery, Randolph, VT]  We are anxious to hear the particulars of his death.  Wonder the family don't some of them write to us.  We should think they would.
Mother nor Susan did not write by Arnold — he said Mother had been very sick and Susan he says is going to be married.  Hope they will write soon — we want very much to hear from them.
Hiram likes Wisconsin now as well as ever — he thinks it far better than Vt.  I think so much of my home here that I do not wish to relinquish it for any other this side [of] the Lakes.  We have been here so long it seems quite like home and I prefer staying in our lowly cottage by the side of the wood.  Yes, much rather than seek another home in Wisconsin.
We hope sometime to see our loved friends and neighbors in good old Randolph — oh, that we were there to-night.
Dear Mrs. Washburn, I shall not answer your letter as [I had] wish[ed] to, for I would write you all about our Wisconsin neighbors, [our] Cabin, our farm, the lofty oaks, the birds, the flowers, yea the [word missing] the beauties of the delightful land, but my eyes are tired.  I [must get up] and get supper.  Mr. Huse is at home getting in his wheat.  There will be a chance to send this to the Post Office day after tomorrow.  Do write to us often — we should be so glad.
Sept. 22—Two years this day since I left my long loved home, and dear, dear Friends and acquaintances.  Shall I see them no more?  I cannot bear the thought.  Time nor distance will never wean me, each dear name, each loved face and form — oh, how I love them still!!!!!!!!
Mrs. Washburn I have but a few moments to write for I must be getting supper.  Mr. Huse has five men and eight yoke of oxen to work for him to-day getting in wheat, about ten acres.  I will tell you what I have been doing, or I will tell you in the first place that our spring is dry, and always will be a part of the year.  So we have got a Norwegian digging a well.  We get our water from neighbor Nicholson [Barnabus Nicholson, of West Canada] when our "beautiful spring" is dry.  But they are having their well dug deeper, so for a few days now we have to go a mile for water.  Well, I was going to tell you what I had done to-day — oh, nothing, only I have brought four pails of water.   So you see I have had quite a pleasant little walk.  I have got breakfast and dinner too, you know, and now I must get supper. Good bye.
The day is past, and now it is evening, a bright, beautiful evening.  The moon is shining down upon us in all her splendor, the same sun, moon and stars shine here that we used to see in Vermont and I like them all the better for that.
Tell Aunt Louisa and Hannah that Hiram has bought two pounds of rolls for stocking yarn, but we have not got them home yet, and if they were here, I would not have a wheel to spin them at present — so the stockings they sent to Hiram come in a good time.  I am knitting the feet longer.  I am very thankful for the stocking yarn that Grandmother spun — so you may tell Charlotte.  My sheet is full, but I must write more.
Theoda wrote in her last letter she sent by mail that she thought Aunt Lisa and Hannah sent something by Mrs. Blodgett, perhaps they did not, but if they did, they need not fear but what we shall get whatever they sent the first chance.
Charlotte wrote that David Carter's folks had buried their youngest child and that their boy died last winter.  They have but one child living now, have they?  Brother Elijah [Blodgett, (1818-1885)] sent us a paper by Arnold that had James' death in it (Gustavus M I suppose wrote the piece).  How many times I have seen him setting "upon the threshold of his pleasant home."  That pleasant home is now a home of sorrow, of sorrow for him that he is gone, and that "little Brother" is left alone.  Remind us affectionately to Daniel and wife, likewise to your husband and children, and to your Father's family.  How is your Mother's health?  Our love and best wishes to friends and neighbours, each and all.
September 25. Mr. Huse is going to Watertown again tomorrow to work.  We have a young man boarding with us.  He has been here about three months; has been sick part of the time.  Rather think he will be with us most of the time all winter.  His health is very poor, but he is some company for us when H is gone.  Our Aunt Alison is at Watertown now.  She is expecting to be married next week to a Mr. Chase of Aztalan.  I am glad of it.  She has been staying with us most of the summer and her girl too. She is going to marry well.
Saturday evening 25th.  My husband has heard to-day from [word missing] Mexican War — has not run the account in the paper yet.  The men that went from Watertown (and vicinity) are [word missing] of them sent off.  Three young men from Watertown that Mr. Huse was intimately acquainted with, are killed (Richardson, White and Fields).  Huse says they were as promising youths as he ever knew.  He will not sleep much to- night [word missing] his mind is full of war.  He says "can it be possible! Wo[e]" to the land. Wo[e]! to the people. Wo[e]! to Polk, our President and other great men who stand at the head of our nation, wielding her destinies!! Huse wishes President Polk dead. Pity he had not died three or four years ago.
Mr. Gilman (a tavern keeper) at Watertown [Charles Gilman, owner of the Exchange Hotel, the first hotel in Watertown] enlisted his son, a lad 14 years old, as a musician.  His poor Mother is almost crazy.  Likely he is dead.  Report says they were first and foremost in the battle, and were all killed.  Mr. Huse says when they enlisted they had no more thought of going to Mexico to fight than he has of going there tonight.  Huse says too that he gave them fair warning what they were about, but they turned a deaf ear to all his entreaties, and now they have paid their lives for their folly.
Mrs. Washburn you wished me to write all about our Wisconsin neighbours.  I can say but little good of most of them, therefore I had better not say anything.  My husband wrote to Mr. Clark that "one would suppose that old Mother Earth had got drunk and emptied her huge stomach into this goodly land of Wisconsin."  So much for the multitude around us.  Again, Huse writes, "our neighbours are well enough in their way, but 'tis a (no wonder he used such [a] word) dam'd hard way they have of their own." A set of perfect Hogs! Jack asses! and f-o-o-l-s! Alas, for the "kindred spirits."  Where are they [words missing] not here.  There are some few here however, that we think a good deal of.  One family, by the name of Leach, that we like much. [Waterman Leach (1791-1869; wife Tryphena Stratton]  They came from Bennington, Vermont.  I think Mrs. Leach a good woman as I ever knew.  She comes to see us often, and so does her daughter Caroline.  I like to have them come and I go there more than to any other place.  I have said nothing of our Vermont Wisconsin neighbours. We like them (of course).  Now I must close.  Wish I had room to write more.  Don't think you can read this.  Write soon, do.  Lots of mistakes and blunders, but no matter.  You will overlook them. Ever your friend, Emily M.B. Huse
Evening, 10 o'clock.  Mrs. Washburn I am getting to be almost as large as yourself.  I am quite fleshy and my health is good.  I am troubled some with lameness — effects of the Ague most likely.
Matthew Steel from our neighbourhood and a Mr. Kip are killed*.  I knew them well. Was there ever the like of that Mexican War?  Horrid Butchery!  Mexico is harder metal than Polk thought for.
Dear Mrs. Washburn, how I want to see you.
Autumn winds are sighing; Summer flowers are dying.
Emily."
__________________________________
*Mrs. Huse was misinformed about the fate of Messers. Kipp and Steel. The Watertown Chronicle, March 15, 1848, carried the following notice, which referenced several of the persons she wrote about:
"The Watertown Boys.--Another letter has been received in this village from Mr.
James R. Richardson, of the army. We copy from it the following notice of the
Watertown volunteers:
'Crosby, whom we left at Puebla sick, on our way hither, is dead. His complaint was
diarrhea, though discontent was the chief cause of his disease. Mills, through the
intercession of a cousin, a surgeon in the army, has got his discharge at Puebla, where
he was left sick, and is on his way home. Davis, of Oak Grove, also left there, has
since died. French, too, has received a discharge. Of the 23 who left Watertown, only
10 are left here.
'Kipp and Steel are both in prime order. 'York' has arrived, and been promoted to
the berth of second cook! Charley Gilman is well, and improves very fast on the fife.
McGraw beats the drum well. White has been made corporal in company C. Fields
is as fat as a bear, and beats the bass drum. Scott enjoys first-rate health, as also does
Rice.'
In another part of his letter, Mr. R says: 'This 'going to Mexico' is all very pretty
to talk about at home, but the 'going' as a soldier, is a different 'article.' For my
part, I have seen enough, and would gladly turn back.'"
Cross Reference:
[1]  Information of Hiram Augustus Huse, son of Emily  
[2]  Information of Hiram Augustus Huse, son of Emily (includes pic)
<![if !vml]>

<![endif]>
History of Watertown, Wisconsin