website  watertownhistory.org
    ebook  History of Watertown, Wisconsin
Hoida Home
700 S Fifth
2007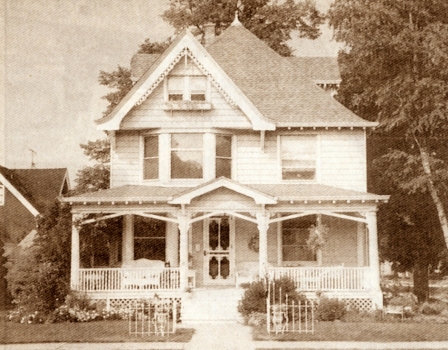 WHS_005_818
The 1906 three-story Victorian home at 700 S. Fifth Street was acquired by Brian and Deb Hoida in 1990.  A cozy window seat, pocket doors, hardwood floors and architectural elements add to the ambiance of the home.  The Hoidas remodeled the rooms several times over the years to suit Deb's passions for decorating and shopping.
The home is decorated in shabby-chic/cottage style, featuring many antiques and flea market treasurers.  The dining room has collections of antique floral pictures and garden accents to bring their love of gardening and the outdoors inside year-round.
A whimsical holiday "candies and cookies" theme makes the kitchen a cheery place to gather for holiday baking, while the living room reflects a cozy feeling in shades of ivory and creams.
Upon entering the second floor, individuals will see touches of a more masculine feel, featuring a one-of-a-kind Harley Davidson bathroom and a vintage games and sports theme guest room.
While Deb's passion for decorating year-round is evident, the Christmas season has always prompted her to go to extremes.
Cross reference:
THE FORMER OSCAR BAUMAN HOME
<![if !vml]>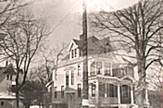 <![endif]>  

History of Watertown, Wisconsin