website  watertownhistory.org
    ebook  History of Watertown, Wisconsin
John Heymann
Hotel Rhine
<![if !vml]>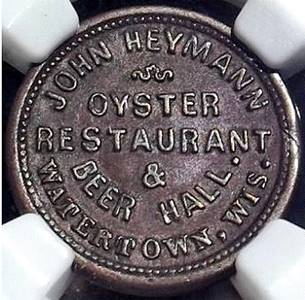 <![endif]><![if !vml]>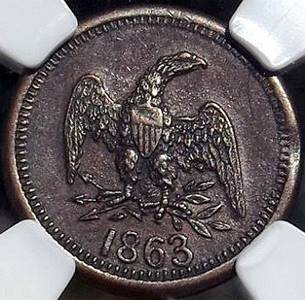 <![endif]>
1863:  John Heymann Oyster Restaurant & Beer Hall
1862
10 02       OYSTER RESTAURANT OPENED ON COOLEY'S BLOCK, SECOND ST
Mr. John Heymann has recently fitted up in an elegant style and opened an extensive eating saloon in Cooley's Block, on Second Street, and is now prepared to entertain his customers with any variety of meals they may desire, at any hour of the day.  Having been connected with similar establishments in several large cities, he has the skill and experience to provide a breakfast, dinner or supper that will not fail to please all who visit his restaurant.  Fresh oysters, in the shell or can, will always be found there and can be had in any way preferred.  His card is in this paper.   WD
1863
06 18       HEYMANN'S SALOON
Mr. John Heymann keeps as elegant and well-furnished a saloon as can anywhere be found.  He is always gentlemanly and accommodating and he supplies his customers with the best articles that can be found in the market and his dinning arrangements and tables are all that can be desired.  Persons calling for warm meals can always get just what they want at his establishment on the shortest notice.   WD
07 30       HEYMANN'S RESTAURANT
Heymann's Restaurant on Second Street.  Warm meals can always be had at the restaurant on Second Street, in Cooley's Block.  Beef stakes [steaks], cutlets, the delicacies of the season, coffee, chocolate and tea at all hours can be furnished on the shortest notice.  The best liquors and wines, beer, and Havanah [Havana] cigars always kept on hand.  Among the drinks always ready are:  May Wine, Jenny Lind, Punch a la Napoleon, Louisiana Tiger, Cherry Cobbler, Brandy Smash, Gin Cock Tail, etc., etc., etc.  – John Heymann.   WD
11 12       BOOTH'S PREMIUM OYSTERS
Booth's Premium Oysters at John Heyman's Restaurant, opposite the post office, at Chicago and Milwaukee prices to dealers.  John Heyman informs his friends and the public generally that his restaurant is now stocked with all the delicacies of the season, which will be served up in the most approved style.  Warm meals after the European plan at every hour.  All kinds of beverages, warm and cold tea, coffee, chocolate, bouillon, wine, punch, etc.  The very best imported wines, claret and French wines, champagne, cognac and other standard liquors.   WD
1864
12 15       HEYMANN'S RHINE HOUSE / DAY BOARDERS
Mr. John Heymann is now ready to accommodate a number of day boarders, as will be seen from his card in this paper.  His establishment is one of the best in the city and gives the amplest satisfaction to all who make a home at his house.  The Rhine House is a popular institution located in the business part of the city.   WD
1865
<![if !vml]>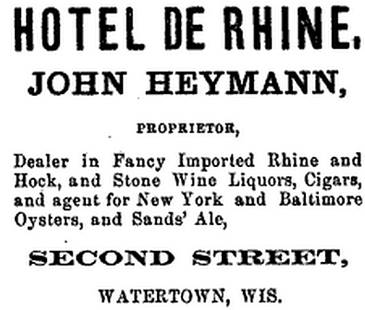 <![endif]>
Wisconsin and Minnesota State Gazetteer, Shippers' Guide and Business Directory for 1865-'66 (Google eBook)
1865
Watertown Democrat, 01 12 1865
WANTED
A number of day boarders at the Hotel Rhine, near the post office.
Will be taken on reasonable terms.
Inquire and be satisfied.
John Heymann
Watertown Democrat, 03 30 1865
NEW SALOON opening April 1, 1865.  John Heymann will open on Saturday, April 1st, the saloon lately occupied by Bieber, north side of Main Street, on which occasion a splendid lunch will be provided.  A large choice of wines, liquors and cigars constantly on hand. 
The HOTEL RHINE will be kept open as usual for the entertainment of citizens and strangers.
<![if !vml]>

<![endif]>
1866-67 Watertown City Directory
1874
08 06       Watertown Democrat, Heymann, John Mrs
1881
JOHN HEYMANN Plaintiff vs. THE CITY OF WATERTOWN Defendant
1885      SAENGERFEST, MAIN STREET LOCATION
<![if !vml]>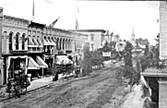 <![endif]>     <![if !vml]>

<![endif]>     Part of Saengerfest street scene

History of Watertown, Wisconsin