website† watertownhistory.org
†ebook† History of Watertown, Wisconsin
Watertown Turkish Baths
Turkish Bath Institute, West end of Cady Street bridge
New Proprietor
Watertown Republican, 01 12 1876
Last week the Turkish Bath establishment, near Cady Street bridge, passed out of the hands of Mr. Harding, Mr. C. A. Hascall, becoming proprietor.† The present owner contemplates making several changes in the interest of the establishment, one of which will be the fitting up of the building for the accommodation of ten or twelve boarders.† Mr. Hascall has already had considerable experience in the Turkish Bath business, and by attending closely to the wants and requirements of all who need the services of the bath, he hopes to merit the patronage of the public.
J. Harding.† Harding, the former proprietor of the Turkish Bath, absconded last week, leaving the Oriental cleansing establishment to take care of his debts, of which there is quite a settlement in this vicinity.† Harding was constitutionally opposed to paying a debt.† He somehow disliked to see money pass through his hands, and we have yet to hear of a dollar that did.† He sold tickets for baths in this city to the amount of hundreds of dollars, and collected the money, but none of his creditors ever saw a cent of it.† Harding's way of making money is not only sure but swift also.† If, however, he attended with the inconvenience of moving quite often, but Harding had rather move any time than to undertake the disagreeable task of paying a bill.† We hope he has gone to a country where pay-day never comes, and where his sense of refinement may never be disturbed by the presentation of a bill.† Harding bought exclusively on check, but sold for cash.† He was very close with the latter, but the way he squandered the former on our citizens was fearful to behold.† We hear a great deal about an inflated currency, but it is nothing compared with an inflated cheek-- Harding's especially.
Testimony for C. A. Hascallís Thermo Therapea,
or Turkish Bath Institute, Watertown, Wis.
Watertown Republican, 03 01 1876
<![if !vml]>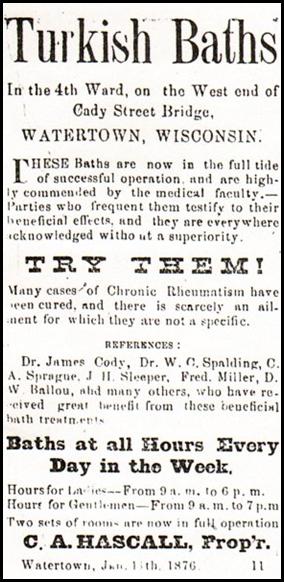 <![endif]>
To all whom it may concern:
Having been a great sufferer for more than two years from Sciatica, which unfitted me for the duties or enjoyments of life, and having tried every means within my knowledge or reach, without receiving any benefit, but rather growing worse, suffering the most excruciating pain, day and night.†
And such were my sufferings that life was a burden, only to be endured, not enjoyed.† And I looked forward to suffering and pain only until released by death.†
At this juncture a friend from Milwaukee spent Sabbath with me, and learning my situation, by much persuasions, returned with him to Milwaukee, and placed myself in charge of Dr. M. P. Hanson.† I had not enjoyed a nightís rest for months on account of a severe pain in my lower limbs.†
Arriving at Dr. Hansonís in the evening, I took my first Hot Air Bath, and strange as it may appear, I enjoyed sweet refreshing sleep that night.† I stopped with Dr. Hanson fourteen days, then returned to my home entirely free from pain.† This was in the early part of May.†
In July I visited Palmyra, and took five more baths with good results.† In October I was stationed at Juneau, Dodge County, Wis., and learned that there was an institution of the kind in Watertown, which I visited at my earliest convenience, and found all the conveniences for taking the Turkish Bath, with a polite, kind and skillful manipulator.†
And I most cheerfully recommend Mr. Hascall, the gentle manly proprietor, and his establishment, to all who wish to enjoy only the luxury of a thorough cleansing of the body. A few baths will do this, as nothing else will.†
I do not suppose that Mr. Hascall can give light to the blind, hearing to the deaf, speech to the dumb or that he can cast out devils, or raise the dead, but to all those who are afflicted with Paralysis Sciatica or Rheumatism of any kind, with Catarrh, Dyspepsia, diseases of the liver or kidneys, if not a perfect cure, there will be permanent relief.† The pores of the body are uncapped and opened for the escape of the effete matter, which is gathered, and brought from every organ of the body by the hot air bath.†
And I can recommend to the suffering who may favor the institution with a call -- Mr. Hascall as the most thorough and successful operator at the table, who has ever attended upon me.† And all who need medical examination and counsel will find an able corps of physicians from whom to select.††
REV. D. BROWN,
†††††††††††††† Pastor M. E. Church, Juneau, Wis.†† February 15, 1876.
Cross Reference:
†††††††††††††† George Zeolle Turkish Bath establishment