website† watertownhistory.org
††† ebook† History of Watertown, Wisconsin
Habhegger Home
413 S Fifth St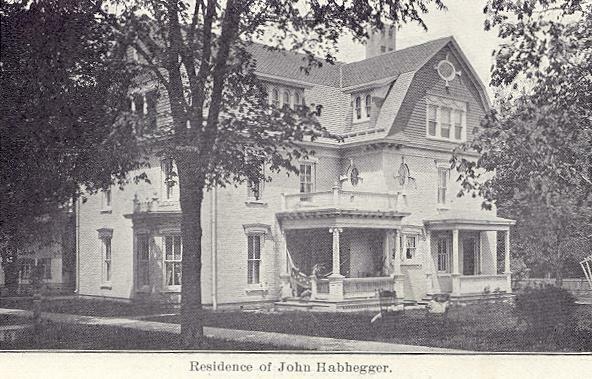 ††††††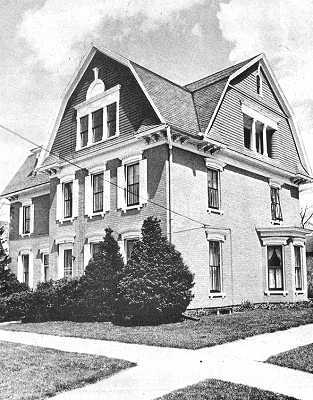 The John Gaston home is at 413 South Fifth Street.† For many years this was known as the John Habhegger home, grandparents of the Gastonís.
It was built in 1880 by Dr. Augustus Dorsch and purchased by Habhegger in 1889.† The early deed specified that the seller "resumed right to get water from the well."†
Habhegger, general merchant and owner of the Habhegger Cold Storage Company, was born in Switzerland in 1844 and came to Watertown with his parents in 1853.† In 1862 he enlisted in the army and served with distinction in the Civil War.
Mrs. Habhegger was one of Watertown's earliest native residents, born 14 years after Timothy Johnson arrived in 1836.
The Habheggers played an important part in the development of the community.† They celebrated their golden wedding anniversary in this home in 1918.
Habhegger did extensive renovation in the house.† He added the third floor with its gambrel roof line, and unique window treatment, designed the garage to match, put in hardwood floors throughout.† Early interior pictures owned by the Gastons show the fretwork in arches between hall, living and dining rooms.
The exterior of the house has been altered considerably; fretwork has been removed, as have some of the original porches.
Street car tracks, forerunner of the daily interurban to Milwaukee, ran in front of the home and were installed in 1907. The tracks were abandoned in 1927.
John Gaston's mother was a Habhegger daughter, married to Omar Gaston, architectural engineer, former organizer and president of the Merchants National Bank.
Another Habhegger daughter married Dr. A. F. Solliday with the wedding reception in this home on Fifth Street.† The Solliday home, one of Watertown's distinctive old homes, was purchased by St. Bernard's as a convent.
1902
<![if !vml]>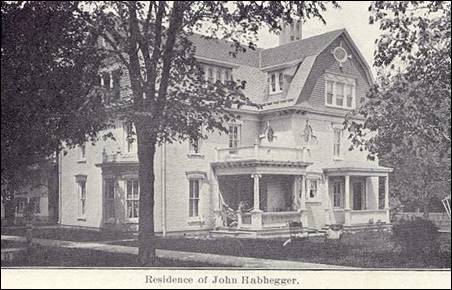 <![endif]>††
1951
ASSESSOR IMAGE
<![if !vml]>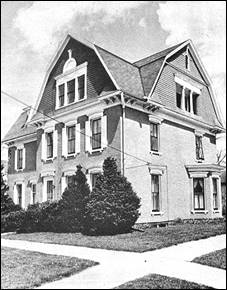 <![endif]>††
2007
RE-ROOFING
Cross References:
John Habhegger Sr and Jr are buried in Oak Hill Cemetery.

History of Watertown, Wisconsin