website  watertownhistory.org
    ebook  History of Watertown, Wisconsin
Walter Goodlette (Mr. Goodie)
Mr. Goodlette (Mr. Goodie) was a Fuller Brush salesman, taught music in his home,
and was one of the first African-Americans to live in Watertown.
<![if !vml]>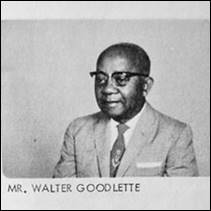 <![endif]>  1972
Mr. Walter Goodlette is pictured in the 1972 directory of the United Methodist Church,
just a few months after his wife had passed away.
Walter J. Goodlette (Mr. Goodie, born 09 17 1888) and his wife, Virgina,
are buried at the Concord United Methodist Church Cemetery near Sullivan, WI.
<![if !vml]>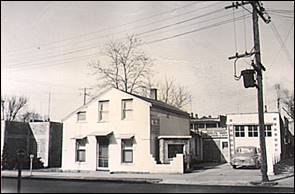 <![endif]>  1953
click to enlarge
One of the first African-American residents to reside in Watertown, Mr. Goodlette ("Mr. Goodie") and his wife taught music lessons at his home on South Fourth Street and was also known to work as a 'Fuller Brush' man selling door-to-door.  Kind and soft spoken.
He was involved with the music at the Wesley Methodist Church, then located at 201 North Fifth Street and only a short distance from his home.  His daughter was a soloist at the church.  Among other things he gave marimba lessons in the living room of his home.  
MEMORIES
Used to call on our house a few miles out of town. My mother didn't want to buy anything on one visit and got my sister to hide in the closet to pretend they weren't home. Next visit, my sister proudly told him they'd hidden last time.  If my mom could have crawled under a rug . . . I was younger and have no memory, but would love to talk with him about his life there.
Peggy Theder I would always get excited when he came to the house with his many products . . . . Fuller Brush!  I can't remember exactly if he sold candy products or if he would always bring some with him, but he would always give me some!  He was also my Sunday school teacher at Methodist Church.  Very sweet man AND drove a pink & black Dodge.
I was their paperboy - always pleasant.  Given that most "Watertownians" back then never had any real contacts with Blacks other than the Goodlettes, they helped create positive racial impressions for many of us.
I forgot about him being the Fuller Brush man.  I thought he did baby shoe bronzing.  Every time I would walk by his shop, that same pair of bronzed baby shoes were in the window.
I remember him coming to our house with his products!  I also took piano lessons from his wife . . . . for a short time!
Come to think of it didn't he also sell Mc Ness products?
He was a truly gentle soul
I remember him coming to our home outside of town on Milford Street. My mom also bought brushes from him. What a sweet memory.
I still have a hair trimmer that he sold my mom.
The Goodlettes were brought to Watertown by the Methodist Church here.
I believe Mr Goodie sold McNess products.  I remember my grandmother buying these huge bottles of vanilla from him.  The Fuller Brush man had a prosthesis on his right arm.  He always wore a brown cotton glove to cover it.
Mr. And Mrs Goodie were my Sunday school teachers at the Methodist church . Very kind and soft spoken. They would give you $1. If you memorize the books of the bible
Quite a musical family. Remember going to his house and playing the xylophone. Their kids babysat us. Wonderful family
I remember being at the Sweeney residence when Mr. "Goodie" was there with nectar he sold them. Sweeney's were always ahead of their time!
He used to sell flavorings from mcness!  We had him for Sunday school and if you could recite the books of the bible by heart you got a dollar!  Also he would come to visit and he always had a stick of gum in his shirt pocket!!
My sister Sue, cousin Diane and I were all in the marimba choir.  I never did very well on the marimba but others played beautifully.  The songs played in the concerts, usually at area churches.
I do think he also bronzed our Baby shoes.
Had Mr. Goodlette for Sunday School. Would stop at their home to visit and listen to him play the piano. His wife was really sweet, always got a cookie.
Mr. Goodie came to our neighborhood as a salesman a number of times.  My mom spoke quite fondly of him and would usually buy something from him if I remember correctly.  I think I heard the entire family was very talented musically and would perform often.  Great to hear he made an equally good impression on others.  It took courage to hold your own in a very Anglo-Saxon environment!
This family was the only African American family in Watertown in the 1960s. I wish I knew more about them.
Remember him well. He came to our farm in Ixonia. He was a sweet man and true, soft spoken and kind. It was a joy to see him.
Mr. Walter Goodlette is pictured in the 1972 directory of the United Methodist Church, just a few months after his wife had passed away.
My grandma was one of his regular stops. I remember having a crying fit when I was about 4 because he had a pop-up Santa Claus that was really cool and my grandmother wouldn't buy it for me.  Turns out she got it later and gave it to me for Christmas.
Mrs. Goodlette taught me the intricacies of "Ring Around the Rosie" during Sunday School.  I had difficulty reciting the words and moving in a circle at the same time.  She stuck with it and she did it with a smile.  I still have a Fuller clothes brush and comb that my father bought from Mr. Goodlette.
My doctor was in the building right next door and I remember hearing marimbas being played as I walked by his house.  No A/C in the doctor's office so I picked a seat near a window so I could listen to the marimba practices.
Cross Reference:
THE GOODLETTE HOME once stood at 110 S. Fourth St.
<![if !vml]>

<![endif]>  

History of Watertown, Wisconsin