website  watertownhistory.org
 ebook  History of Watertown, Wisconsin
German Adventist Church
First Advent Christian Church
213 S. Eighth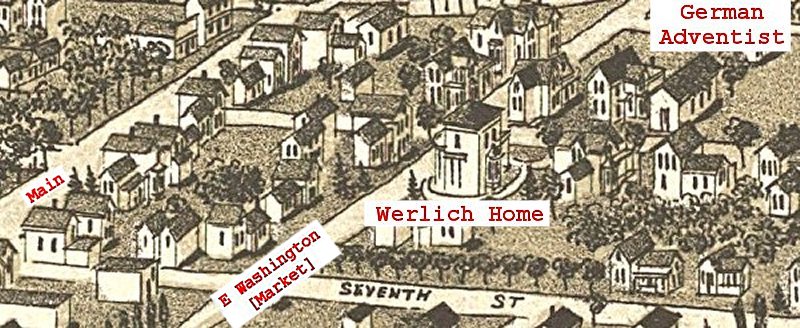 The City of Watertown, 1885.  H. Wellge. Beck & Pauli, litho.    Annotated to become WHS_005_873
Market Street of today was East Washington Street in 1872
Click upon to enlarge
Watertown Republican, 08 07 1872
The German Adventists this week commenced the erection of a church building on 8th Street, near the residence of Mr. G. [Gustav] Werlich.  The building will be frame, 26x40.
Watertown Daily Times, 06 12 1976
The Advent Christian Church is one of the smaller congregations in Watertown.  The congregation was established on February 26, 1872, and the present church was erected the same year.  Since its original construction, the church has been enlarged and improved.
The church celebrated its centennial in October of 1972 which brought together many former members and pastors.  The present pastor is the Rev. Norman Phillips, who has served here since September of 1969.
The church provides a full program for all age groups.  In addition to its own services the congregation cooperates with other churches on Watertown in union services and other joint efforts.