website  watertownhistory.org
    ebook  History of Watertown, Wisconsin
Fourth Street Bridge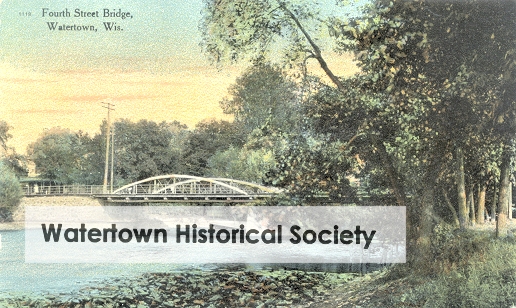 WHS_001_PC_161
We hauled logs to Watertown in order to build a bridge across the Rock River, at what is now North Fourth Street.
    [Reminiscence of Ernst Gottlieb Dornfeld (1831-1907), "My Home Town", Charles Werth, published in Lebanon Leader of 03 1995]
1886
<![if !vml]>

<![endif]>   Scene on Rock River, from Fourth Street Bridge, looking east
1898
11 23       On Monday the members of the committee on highways and bridges of the Dodge County board were in the city for the purpose of inspecting the work done last summer in improving North Fourth Street bridge.  A proposition is on foot to secure an appropriation from Dodge County for one-half the expenses incurred in rebuilding the bridge.   WR
11 30       Among the appropriations for the construction of bridges made by the Dodge County board is one of $450 to the city of Watertown.  This is to meet one-half the amount spent by the city last summer in improving North Fourth Street bridge and is considered a just charge against the county, as the bridge is a great accommodation to farmers living north of here.  It was largely through Supervisor Habhegger's influence that the appropriation was secured.  WR
1914      TORNADO OF 1914
<![if !vml]>
<![endif]>      Chapter on 1914 tornado. 
1984
The Watertown Public Works Committee recommended Tuesday to go ahead with plans to extensively rehabilitate the North Fourth Street bridge and resurface the North Water Street bridge at a cost of $63,525.  If approved by the council, work on the Fourth Street bridge will begin on or about Aug. 13 and extend for approximately 75 days.   WDT
2001
01 24       Residents can learn about the future replacement of two local bridges in an open house meeting Thursday afternoon at the Watertown Municipal Building.  The public informational meeting will take place from 4:30 to 6 p.m. in Room 69.  Representatives from the city and an engineering firm will be present to explain the projects and answer questions from the public.  The bridges over the Rock River spanning North Fourth and North Water streets are deteriorating to a point they would need to be posted for weight limits and eventually closed down, according to Jan Zander, manager of transportation engineering at Ayres Associates of Waukesha, the firm hired to design the new bridges.
<![if !vml]>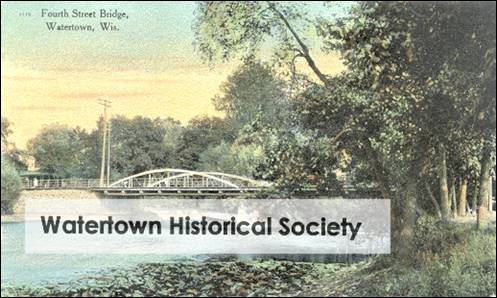 <![endif]>  Image Portfolio         

History of Watertown, Wisconsin