website  watertownhistory.org
    ebook  History of Watertown, Wisconsin
Henry C. Enos
Jacob Enos (father of Henry)
Col. Herbert M. Enos (uncle of Henry)
Death of Henry C. Enos
1911
Watertown Gazette, 07 06 1911
Henry C. Enos died at Minor Private Hospital, Seattle, Washington, on Sunday, July 2, 1911, and his remains will be brought to this city Friday morning at 6:45 over the C. M. & St. Paul Railroad and taken to the undertaking rooms of Carl F. Nowack in North Fourth Street, from where his funeral will be held at 9:30 o'clock to the Congregational Church.  The interment will be in Oak Hill Cemetery. 
Deceased was born in Watertown, Wis., April 10, 1849, and was the oldest son of the late J. J. Enos [see cross reference, below] and wife, his father being in early days here one of the most eminent lawyers of the state.  After leaving school he was for a time engaged in business in Kansas City, Mo., and in 1874 he was enrolling clerk in the state legislature at Madison.
Shortly after the firm of Woodard & Stone was established in this city he was for many years traveling salesman for the firm and after retiring from that position he traveled for different firms, of late years being traveling salesman for a large Boston confectionery establishment, his territory extending all over the United States.
Since May 31st he was confined in the Minor Private Hospital in Seattle with a sore toe, which terminated in gangrene, the direct cause of death.  He received the very best of medical attention and for some time previous to his death had the consolation of having with him two old Watertown boys, George F. Wilder and A. P. Chapman.  They attended to his every want, and left nothing undone to comfort him in his last illness.
For several years past he made his home with his uncle, Col. H. M. Enos of Waukesha (see below), where his sister also resides.  One sister, Miss Amelia R. Enos of Waukesha, and one brother, D. F. Enos of Boston, survive him.
The news of Mr. Enos' death was received in Watertown with great sorrow by his extensive acquaintance.  Henry was one of the best men that ever lived and one always felt better after meeting him.  His cheerful, whole-souled manner of greeting his fellow man had an elevating influence and on meeting him if you chanced to have the blues Henry never failed to drive them away and leave you in a happy frame of mind.  Every inch a man, yet mild and affectionate, and never too big to pass by an acquaintance, no matter how lowly, without extending a pleasant greeting. 
He frequently visited our city, mainly to call on old friends, and when here all who learned of his presence were anxious to meet him, and if he chanced to get away without all his old friends seeing him, regrets were expressed by any who failed to see him.
His death is sincerely mourned here and many old friends of his throughout the country who are patrons of The Gazette will read this notice with a feeling of deep sorrow and will give expression to words of praise for the departed.
1912
Watertown Gazette, 08 15 1912
Uncle of Henry Enos
<![if !vml]>

<![endif]>
Col. Herbert M. Enos, aged 79 years, died last Friday morning at his home, 502 Barstow Street, Waukesha, of heart trouble.  Col. Enos was born in Johnstown, N. Y., March 10, 1833.  He received his academic education, and at the age of nineteen received an appointment as a cadet to the United States Military Academy at West Point.  He graduated in the class of '56.  After his graduation he was stationed at Carlisle Barracks for about a year and was then transferred to New Mexico. 
<![if !vml]>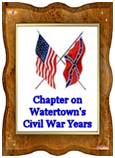 <![endif]>
In the Civil War he was assigned to the quartermaster's department with the rank of captain, and he served until 1867.  His health failed and in 1876 he was placed upon the retired list with the rank of major.  In 1878 he erected a beautiful home on Oak hill, Barstow Street, Waukesha, where he had since resided. 
Col. Enos was a democrat.  He served as trustee of the Waukesha village board and was elected president.  In 1897 he was elected mayor.  He also served as a member of the school board.  The decedent never married.  He is survived by a sister, Mrs. H. T. Whorton, Los Angeles, who attended the funeral Tuesday at 1 p.m., followed by interment in Watertown.
The members of the Royal League officiated at the residence and the members of the G. A. R. took charge of the grave.  His remains were brought here on Tuesday and interred in Oak Hill Cemetery.
Members of the Loyal Legion who attended the funeral of Col. H. M. Enos, at Waukesha, were Maj. E. A. Herren, the commander, Gen. Arthur MacArthur, Capt. Douglas MacArthur, Gen. Charles King, Capt. A. B. Davis, Capt. Amas P. Foster, Paymaster A. M. Beacham, Maj. C. H. Anson, J. McC.[?] Bell, Capt. E. B. Parsons, Capt. W. A. Angevine, Lieut. George W. Peckham, Dr. Walter Kempster, Capt. J. B. Oliyer, Irving Robinson and Lieut. Col. J. A. Watrous, who represented Department Commander Spratt of the Grand Army of the Republic, of which Col. Enos was department commander in 1882.  Past Commander in Chief A. G. Weissert was also present, representing Commander in Chief Trimble of the Grand Army.
A number of the above and a large delegation of Waukesha lady and gentlemen friends accompanied the remains to this city on the interurban railway, two cars being necessary to accommodate those attending.  The G. A. R. Post of this city met the remains in Main Street and accompanied them to Oak Hill Cemetery.  Col. Enos was highly esteemed here and was well known by many of the old residents, all of whom mourn his death as that of a good and noble citizen.
Cross Reference, to father Jacob J
| | |
| --- | --- |
| Enos, Jacob J | |
| Enos, Jacob J | |
| Enos, Jacob J | 1866-67, Watertown City Directory, pg 20 |
<![if !vml]>

<![endif]>
History of Watertown, Wisconsin