website  watertownhistory.org
    ebook  History of Watertown, Wisconsin
Dr. Clemens Theodore Eger
1828- 1921
Eger, Clemens T, physician, 401 6th, res same
<![if !vml]>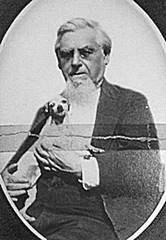 <![endif]>
click to enlarge
<![if !vml]>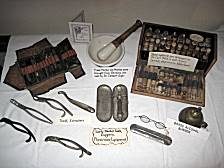 <![endif]>   <![if !vml]>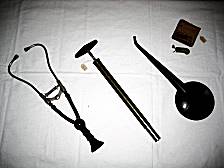 <![endif]>   Watertown Historical Society Collection  
Tooth extractors/early dental tools, cuppers, physician tools, vials belonging to Drs. Carl Feld and Clement Eger, early Watertown physicians
<![if !vml]>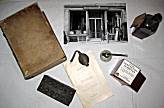 <![endif]>  Collection of items associated with Dr. Eger estate
1855
1856
Clemens Eger had attended several universities and had been a physician in Europe; he continued as one locally.  He came in 1856.  
N.B.  1856 cannot be correct.  Was here when married in 1855.
1865
03 30       Common Council Proceedings.  Ald. Beckman reported in favor of allowing the account of Dr. Eger for medical treatment of paupers, $20.  Report adopted.   WD
c.1865
CIVIL WAR MEDICAL BAG
<![if !vml]>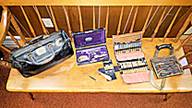 <![endif]>  
Donated 08 01 2016 by Alfred Eger / Accession #160801
"In memory to Dr. Eger: from the Eger family"
Medical bag with portable pharmacy in a small folding valise to make medications on site and Civil War tools: saw; surgery devices; some tools used in the late 1890s-early 1900s.
1913
Eger, Clemens Theodore, 401 Sixth, physician
1914
03 05       DEATH OF WIFE, Augusta T. Eger (1831- 1914)
Mrs. Augusta T. Eger, wife of Dr. Clemens Theodore Eger, departed this life at the family home, 401 Sixth Street, March 1, 1914, the cause of her death being bronchial pneumonia. 
1921
06 01       DEATH OF CLEMENS THEODORE EGER (1828- 1921)
Cross References:
City's Early Doctors
Watertown Daily Times, 04 18 1968
According to several county histories of Jefferson County the following facts about early physicians are recorded:
The first one cited is: "The History of Jefferson County, Wisconsin, Western Historical Society. MDCCCLXXIX": "First Settlers, page 406: "Mr. Cole then proceeds to give from memory a list of those who had come to Johnson's Rapids for the purpose of settling, to December, 1937. . . . Dr. Colbough, Canada . . . ." Page 464: "Drs. Cokeley and Goodenough were the first practicing physicians: Drs. Cody and Spalding are the leading physicians at the present time."
The second history cited was edited by John Henry Ott. "Jefferson County Wisconsin and Its People, 1917." On page 137 of volume one: "Doctors Goodenough, Cokeley, Hamilton, Breckenridge, Schindler (a Swiss) were the first practicing physicians in Watertown. Little is known of these men. Dr. James Cody, born in Newfoundland in 1820, a graduate of Harvard Medical School, came to Watertown in 1846 and was highly esteemed until 1885 (died in 1894). . . . Dr. M. N. Barber (born in 1821) came to Watertown in 1848, from Racine; he was a native of New York, called himself a botonic eclectic.  Dr. Spalding, born in 1825, a graduate of New York University, came to Watertown in 1849, died 1903. Dr. C. J. Eger, born 1828, still living, is a graduate of Leipsig University, a man of good ability and scholarly tastes.

History of Watertown, Wisconsin