website  watertownhistory.org
   ebook  History of Watertown, Wisconsin
Watertown Driving Club
<![if !vml]>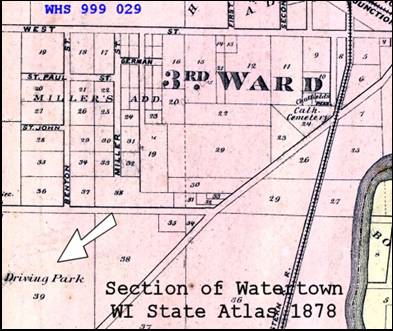 <![endif]>
1870's
Horse-racing, which, in the 1870's took place in Watertown's Driving Park, located at the intersection of what is now Milford Road (Co "A") and Commerce Drive, was very popular at this time.  The weekly paper frequently carried the results of the races the previous week.  But horse racing was not just a warm weather sport.  During the winter the races were run on ice with the horses wearing special shoes to assure them firm footing.
1904
New track, Vaughan place in Seventh ward
1905
    Watertown Daily Times, 03 15 1905
At city hall Monday evening was held a mass meeting to discuss the advisability of organizing a Fair organization of Watertown.  It was the unanimous opinion of those present that an annual Fair was desirable for our city and it was the sense of the meeting that the matter should be pushed to a successful issue.  E. E. Grube [should be H. G. Grube] ... gave the assurance that the Watertown Driving Park Club would be willing to turn in its property to a fair association if such an organization were formed.  This property includes the half mile track, buildings, fences, etc., now on the driving club's grounds in the Seventh ward.
1906
    Watertown Daily Times, 06 08 1906
The matinee held Sunday under the auspices of the Watertown Driving club was a success in all that the term implies, when it is taken into consideration that it was the first meet of the season.  The field of horses was not as large as was expected.  However, there were enough to make the three events very interesting.
The weather was most delightful, making an ideal matinee day.  The attendance was large, considering the numerous counter attractions.  The pledges were enlivened by the appearance of Thacker's band, which discoursed music between the heats.
1924
Watertown Daily Times, 1924
When the project of a county fair for Watertown was broached Herman Grube was one of its ardent supporters and helped in many ways to launch it to a successful issue. 
He had been previously identified with the Watertown Driving Association, which was merged with the fair association, and was elected treasurer of the Watertown Inter-County fair, which position he held during the first three years, relinquishing the office owing to stress of other duties connected with the fair.