website  watertownhistory.org
    ebook  History of Watertown, Wisconsin
Checkered Flag Racing News [CFRN]
1968 - 2005
The Checkered Flag Racing News
P.O. Box 454, Watertown, WI 53094
118 West Main Street
"As A Manufacturer, I Don't Need To Advertise.
I let my Dealers and Distributors Do It For Me."
<![if !vml]>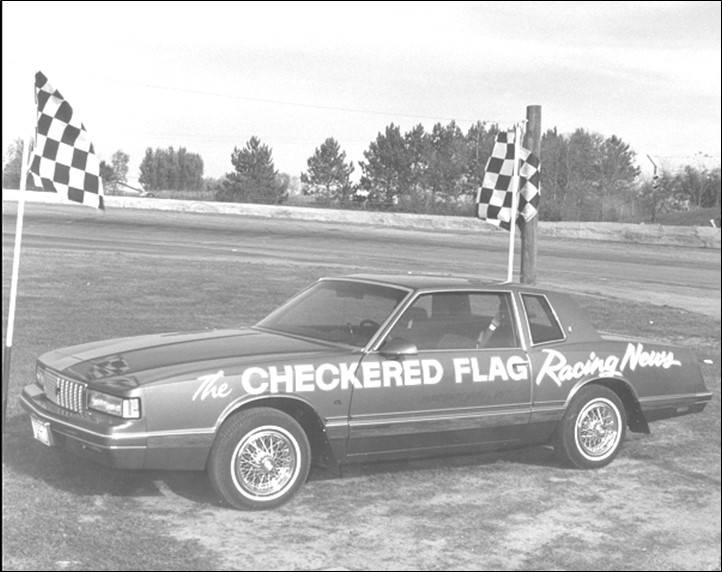 <![endif]>
Wrong! Wrong! Wrong!
When dealers advertise, they toot their own horn. As you know, most dealers represent not only you but several of your competitors.
Brand awareness, whether you are selling racing parts or consumer products, is the key to success.  Getting the customer to call for a part by its manufacturer name - XYZ Firesuit or ABC Fuel Cells - greatly increases your sales.
Most manufacturers do not consider racing trade papers due to their regional nature and| relatively small numbers compared to the national slicks.
Racing newspapers offer the manufacturer a low-cost way to reach the largest number of potential buyers. Not all racers have subscriptions to a national slick, but better than 95% of the local racers either have a subscription, buy one at the race track or read their buddy's racing trade paper.
There are many people involved in the low-dollar end of racing who have the need of good racing equipment. These people depend on the dealers to guide their purchases. Most dealers will sell the product that makes the most profit for them.
The use of informational advertising goes hand in hand with new product releases and trade show displays.
The continual exposure of your brand name and logo is of primary importance - to attract buyers - and the quality of your product is what keeps them coming back.
The Checkered Flag Racing News is sold at race tracks throughout Wisconsin, Minnesota, Illinois, Indiana and the Upper Peninsula of Michigan, along with various speed shop locations and a large number of convenience store outlets in the southeastern Wisconsin market.
Every week, 34 times a year, subscribers in all the continental United States, Canada and some foreign countries receive CFRN.
CFRN, in addition to the short tracks in the above named states, covers news from the major national sanctioning bodies along with new product information for our advertisers.
CFRN offers you the best way to reach the weekly racers with the news of how good your products are and which winners use them.
1997
04 04       118 WEST MAIN STREET
A casual observer sees auto racing's flash and style on a car's exterior, where bold colors and sponsor names make the vehicle a rainbow blur on the track.  What makes the motion, and the moment, are the interior design, the driver and the team.  That's what's under the hood.  A casual observer of John and Doris Quinn's place of business sees the reverse.  The office on 118 W. Main St. in Watertown looks simple enough on the outside, with a small signature sign and a modestly sized entrance.  The Checkered Flag Racing News, a weekly publication chronicling local and national motor sports circuits which also serves as a bulletin board for columns, collecting tips and trade shows, was recognized in March for its 30th year in the running.  The honorary banquet for the Quinns' publishing firm of J/D Enterprises was held at the Plattdeutscher Hall.
2015
10 09       QUINN TO ENTER SHORT TRACK HALL OF FAME POSTHUMOUSLY
<![if !vml]>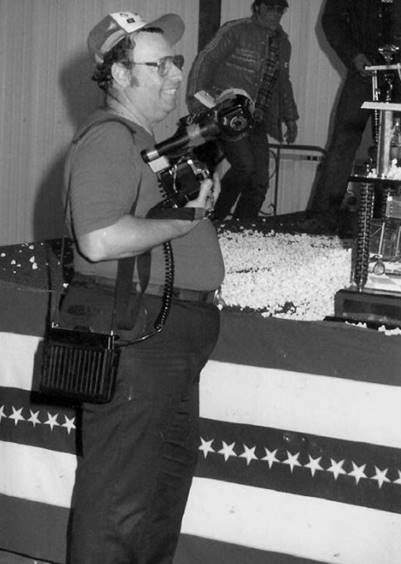 <![endif]>
Watertown native John Quinn has been elected for posthumous induction into the Southeastern Wisconsin Short Track Hall of Fame. The ceremony will take place at the Wisconsin Automotive Museum in Hartford on Saturday, Nov. 7.
Quinn's career as a writer, photographer and publisher providing media coverage to short tracks across southeastern Wisconsin over a span of more than three decades made him an obvious choice for the Hall of Fame's ninth induction class.
A biography of Quinn, which will appear on his induction plaque, is listed below.
"In 1968, a friend of John and Doris Quinn asked them if they knew of a way to keep track of points earned at the Beaver Dam Raceway. They soon decided to create a publication, to be sold for 25 cents at the track, and immediately named it 'The Checkered Flag Racing News.' "When they began to cover races at Jefferson, Columbus and Madison, they wrote their own race results and started to tabulate the points, with the help of the official scorekeepers, while selling the paper at those tracks, too.
"John Quinn was a photographer for a local realtor so the transition to track photography was a natural. The paper was unique in that it carried a photo of nearly every weekly winner with that race track's story. A publisher who covered Eastern Wisconsin dirt track events was then bought out by Quinn and soon he had people taking pictures and getting race results for those tracks also. The office staff, for the first few years, consisted of John and Doris, several contributing photographers and scribes who sent the race results to the paper.
"By the 1970s, an 'ad-man' and a couple of part-time typists and proofreaders were added. During the third year of existence of the paper, subscriptions were offered and a second class postage rate was obtained, which worked fine until the post office lumped the race paper with newspapers and magazine and delayed prompt delivery of all of them.
"John and Doris' six children all helped with the paper, some of them at the shop, and all of them at the tracks, either taking photos, selling papers or manning the photo stand. Pictures of race cars were put on calendars, ash trays and buttons and were sold as popular items at the tracks to the race fans.
"Computers were added in 1985, as was color to the publication, when the local newspaper added color to theirs and printed the racing news for Quinn.
"At one time in its existence there were over 2,500 mail subscribers to the paper and at least that many papers sent to be sold weekly at race tracks all over Wisconsin, Iowa and Minnesota. John helped to organize 'The Speed Review' car shots held for several years at the Capitol Court shopping mall in Milwaukee.
"Quinn was a participating member of many racing organizations such as ARTGO, ASA, the Madison Area Racing Association, Central Wisconsin Racing Association, Eastern Wisconsin Racing Association and Wisconsin Fans for Auto Racing.
"His jovial personality, sense of humor and friendship to all provided a keen break from the serious issues debated at many of those off season meetings. John's weekly column entitled 'Piston Palaver' often documented issues of the day concerning area short tracks and their racers.
"The paper that he and Doris founded was a recipient of many awards of excellence from those various racing organizations. The paper was solid in 1999 and ceased to exist shortly thereafter.
"Quinn passed away in 2001 at age 66."

History of Watertown, Wisconsin