website  watertownhistory.org
    ebook  History of Watertown, Wisconsin
Charles R. Blumenfeld
215 E Main, lawyer
<![if !vml]>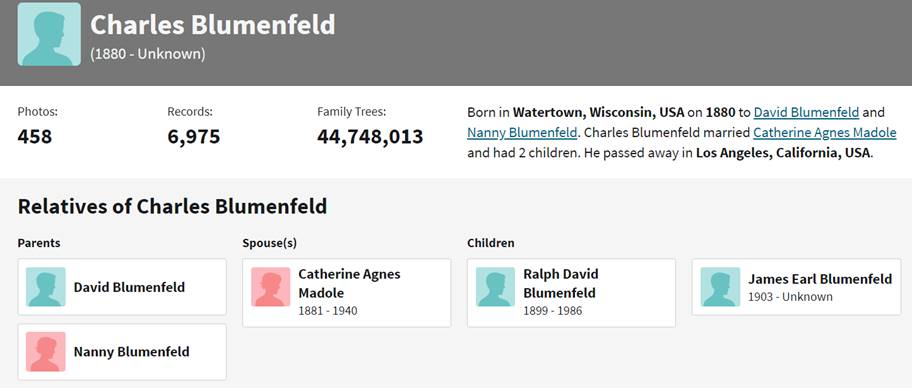 <![endif]>
1880
<![if !vml]>

<![endif]>
1898
11 09       POP-MANUFACTURER REPRESENTED
Collector Blumenfeld, has received from Washington a ruling of the treasury department on a question raised by a pop-manufacturer at Watertown who wishes to mix two per cent of alcohol with pop for the better preservation of the product.  It is held that this involves the person who makes such a mixture for sale in liability as a rectifier, and if he sells it he is required to pay special tax also as a liquor dealer.   WR
1900
03 13       WEDDING STAG PARTY
On invitation of William Sproesser and Charles R. Blumenfeld the Iroquois Club partook of a "Benedict's luncheon" at the club rooms Saturday evening, to celebrate the recent entry, of these two young gentlemen into the married state.  All the Benedicts, except the "Major", were present, as well as a number of prospective ones and the confirmed bachelors.  Full justice was done the appetizing "spread", after which there were numerous diversions that go to make the enjoyable "stag".  The regular club quartette and another quartette formed for the special occasion "made the welkin ring" with their jolly songs, and altogether the affair was a most happy one.
1906
07 22       SON SAVED FROM RUNAWAY HORSE
One of the most exciting runaways in Watertown in a long time was that indulged in Sunday evening by a horse owned by Dr. Arthur Meyer.  The animal which was hitched to a top-buggy, came to a sudden stop on Officer [Lucius] Bruegger's porch at 209 Milwaukee street.  After striking terror to those on the porch, the horse continued its mad flight, but was finally caught and placed under control.  The horse started its run when the doctor was in the act of untying it.  Small trees and their guards were run over by the horse in the flight and it was by a very close margin that a little son of Mr. and Mrs. C. R. Blumenfeld was saved from being in the path of the runaway horse.  Fortunately, the mother grabbed the child in time to save it.  At the Bruegger home, the horse ran through a screen door carrying the same into the sitting room.    WDT
1908      FIRST INTERURBAN PASSENGER
Attorney C. R. Blumenfeld bought the first ticket sold on the car this morning.
1909
1909, Banquet honoring John Beggs and interurban
c.1920
<![if !vml]>

<![endif]>   
1921
<![if !vml]>

<![endif]>
Cross References:
Tie to Gaebler family, Hans D. Gaebler reading law in the office of his uncle, C. R. Blumenfeld

History of Watertown, Wisconsin