website  watertownhistory.org
    ebook  History of Watertown, Wisconsin
Theodore C. Block
1906 - 1959
Watertown Memorial Co
112-118 N Fourth
1913
ODGERS & DALGARNO
1915
ODGERS & BLOCK & WOELFFER CO
<![if !vml]>

<![endif]>
c.1937
JOHN WOELFFER, ALBERT STARK, THEODORE BLOCK
<![if !vml]>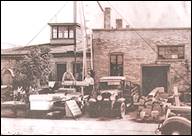 <![endif]>  
1959
T. C. Block, City Business Man, Is Dead
Monument Firm Official Victim of Heart Attack
12 14 1959     Obit includes image
Theodore C. Block 53, of 1108 Jones Street, secretary-treasurer of the Watertown Memorial Co. of which his father was one of the founders, died last evening in St. Mary's Hospital.  His death was due to a heart attack.  He had gone to the hospital yesterday morning for a cardiograph examination and tests for a heart condition.
Mr. Block was a lifelong resident of Watertown having been born here on March 7, 1906, a son of the late Mr. and Mrs. John F. Block.  He was married to Miss Vera Benninger on Aug. 31, 1935.
Surviving are his wife; a daughter, Edith, and two sons, Robert T. and David J. Block, all of Watertown.  There is one brother, E. C. Block, this city, and five sisters also survive.  They are Mrs. Herman Zurr, Lake Mills; Mrs. Fred Witt, Wilmette, Ill.; Mrs. Elmer Schoenicke, West Allis; Mrs. Victor Krueger and Miss Esther Block, Watertown.
1975
112 N Fourth, monuments, WHS_005_272
118 N Fourth, monuments, WHS_005_271
2014
<![if !vml]>

<![endif]> 
Cross References:
Mr. Edwin Woelffer was associated with the Watertown Memorial Co.
<![if !vml]>

<![endif]>
History of Watertown, Wisconsin