website  watertownhistory.org
 ebook  History of Watertown, Wisconsin
Josie and Edward Bliefernicht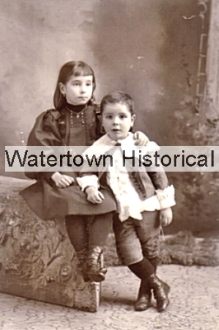 Josie and Edward Bliefernicht   WHS_005_390
Edward is Helen, Mary, Henry, and Ed Jr's father and grandfather of Joe Plasil
Children of Henry and Theresa Jaedecke Bliefernicht.  Early Watertown settlers.
Bliefernicht, Henry D., b. 1864, d. 1903
Bliefernicht, Theresa, b. 1864, d. 1956
Josie buried at Oak Hill Cemetery, Watertown, as are Josie's parents. 
        [Josie not on Oak Hill interment listing]
Edward I am not sure yet. Josie died in Milwaukee, I think Ed did too.