website  watertownhistory.org
 ebook  History of Watertown, Wisconsin
M. A. Began (Beggan)
City Treasurer
<![if !vml]>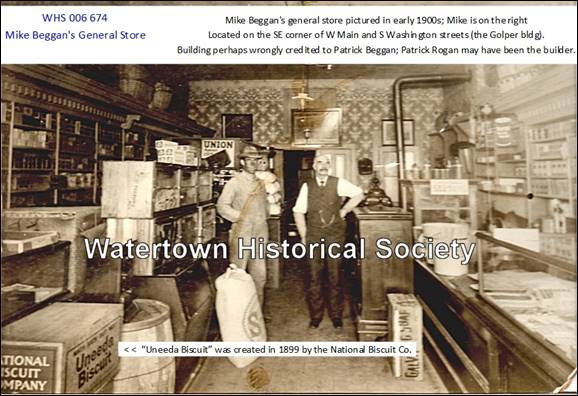 <![endif]>
<![if !vml]>

<![endif]>
1899-1900 Watertown City Directory
c.1885
Circa 1885
<![if !vml]>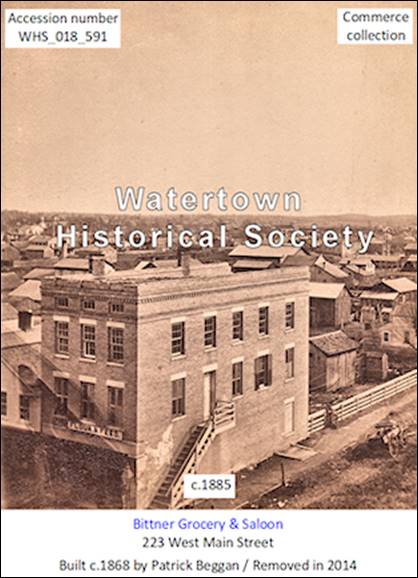 <![endif]>
Click to link to image file
1899       TAXPAYER LIQUIDATES HIS INDEBTEDNESS
02 15       City Treasurer [Michael A] Began (Beggan)had an experience Monday that has completely upset his usual placid serenity.  At noon a gentleman entered his office and quietly told him that an old taxpayer, who felt that he had not been doing his whole duty toward the city, wished to liquidate his indebtedness, and if Mr. Began were to accompany him to a certain room the money would be paid over to him.  Mr. Began, taking his receipt book with him, did as he was requested, and on arriving at the rendezvous was soon securely imprisoned behind locked doors, and was beginning to feel a little squeamish as to the results; but he was not kept long in waiting, as the amount had been figured out to a cent, and $185 was counted over to him, for which he gave a receipt to Mr. "Unknown."  The party of the first part was not visible and all speculation as to his identity is simply out of the question.   WR
1901
04 26       BEGAN (Beggan) HALL REMODELING
M. A. Began is improving his hall on West Main Street, among the improvements being an outside stairway leading to the third story of the building.  When completed it will be used as a place of meetings for all the Catholic societies of the city.   WR
05 03       Mrs. M. A. BEGAN HAD A NARROW ESCAPE
While driving on West Main street last Tuesday afternoon Mrs. M. A. Began had a narrow escape from serious injury, as well as her two children she had in the buggy with her.  Her horse started to run away, and did not stop until arriving at the Whelan nursery in Oconomowoc Avenue where it was stopped by I. Whelan.  Mrs. Began held nobly onto the lines and retained her self-possession until the horse was finally brought to a halt.  There were several hair-breadths escapes, but Mrs. Began simply piloted herself and children through the trying ordeal.  She evidently knows a thing or two about handling a runaway horse.   WR
1912       LETTER FROM M. A. BEGAN (Beggan)
Watertown Gazette, 04 18 1912
Late last month M. A. Began of Effingham, Ills., wrote a friend here and we copy the closing part of the letter, for he never said or wrote anything that did not attract attention in more ways than one.  He says:
The way they catch fish in the Little Wabash here, is this way:  They go out to the "Red Brush" region, or down to "Whiskey Flats" and get a native to jump into the water and search for catfish in the river with his bare toes – when he locates one he reaches down and grabs it and hands it out to a man on the bank.  I have not studied out the trick yet, and am not much inclined to take any lessons in the art, but I know several people that I would like to see in action the moment they stepped on a big catfish with a bare foot.  We celebrated St. Patrick's Day here very quietly.  The post office and banks all closed.  The saloons also were "shut tight" and everybody wore the green.  We have five primaries and five elections between now and May 10th, so I get all the chance to vote that I desire, and have no inclination to mix up in Watertown politics at all.  I can only look on with a swollen heart and watch my old friends tear each other to pieces for the good of the town. Well here is hoping the air will be clearer after the storm.
Yours, M. A. [Mike] Began.
P. S. — St. Patrick's Day fell on Sunday; eh Mike—[The Editor]
Cross References:

History of Watertown, Wisconsin