website  watertownhistory.org
 ebook  History of Watertown, Wisconsin
Henry Bassinger
1932
WGazzette, 05 26 1932
Legionnaires and the Women's Relief Corp directed funeral services Tuesday for Watertown's oldest resident, Henry Bassinger, 101, Civil war veteran, who died late Saturday.  Services were held in the Nowack funeral home at 4 p.m.
<![if !vml]>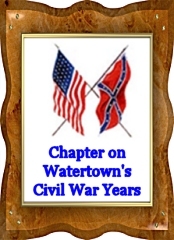 <![endif]>The Rev. E. W. Lemke, pastor of the Watertown Reformed Church and long a friend of the centenarian, delivered the funeral address.  Burial was in Oak Hill cemetery.
Throughout the state Mr. Bassinger's name had spread as the man who claimed never to have drunk water in the last 69 years, since a day in 1863 when a commanding officer sent him to a stream in the South for a pail of water.  After filling the bucket — as he often told the story — he drank long of the water and then glanced upstream to see four dead mules polluting the stream.
In recent years his substitutes for water were principally ginger ale, milk and buttermilk; before prohibition he occasionally drank beer and wine. 
His 100th birthday anniversary, in September, 1930, was occasion for a civic celebration in Watertown.
Born in Prussia, Mr. Bassinger came to Milwaukee in his early twenties, and at the outbreak of the rebellion was one of the first to join Company C, Fifth Wisconsin Volunteer infantry, known as the Milwaukee Turner Rifles.  His regiment fought in practically all the major engagements and was one of the most valorous in the big drive on Richmond, the Confederate capital, in 1862.
During this campaign the Fifth Regiment was a division under the command of Brig. Gen. Winfield S. Hancock.  In the battle of Williamsburg the regiment Mr. Bassinger was in was the last to reluctantly retreat and a few hours later when reinforcements arrived was among the first to rout the enemy. Two days later, when on dress parade, the regiment was highly complimented by Gen. George McClellan, in charge of all the union forces, who said: 
"My lads, I have come to thank you for your gallant conduct of the other day.  You have gained honor for your country, your state, and the army to which you belong.  Through you we won the day and Williamsburg shall be inscribed on your banner.  I cannot thank you enough for what you have done.  I trust in you for the future and know that you will sustain the reputation you have won for yourselves.  By your actions and superior discipline you have gained a reputation which shall be known through the "Army of the Potomac.'"
He also fought in the battle of Gettysburg, the division he was in having joined the Union forces the third and final day of the battle.
During the war he fought in 15 major engagements and never once, in spite of the bloodliness of some of the battles, was wounded during the entire time he served.
Mr. Bassinger also fought in the seven day battle of Malvern Hill during this drive.  For the entire seven days, Mr. Bassinger used to say, the terrific roar of battle was heard without cessation.  Up to that time the battle of Malvern Hill was the most bloody and dreadful on the American continent.  In the same campaign he fought in the battle of Antiedam Creek, September 17, 1862, one of the greatest battles of the war.  Ten thousand men were killed on each side. It was a Union  victory, but McCIellan did not press his advantage and the great campaigns of 1862 ended in gloom and disaster.
He also-fought in the battle of Bull Run when the union troops were routed by the Confederates after General Beauregard was reinforced by General Joseph E. Johnston, who was supposed to have been detained by General Patterson, a northern officer.
At the cessation of the war he settled in Watertown, where he followed his trade of masonry until he was 80.
Mr. Bassinger was four times a widower.  Surviving are a son, Henry, of Seattle, Wash.; three daughters, Mrs. Oscar E. Schwemer, Wauwatosa; Mrs. Mollie Morrise, Milwaukee, and Mrs. Dina Williaford, Cocoa, Fla.  He is also survived by several grandchildren, one of them Mrs. Herman Conrad of this city with whom he lived.
Watertown Daily Times, 09 19 1992
Henry Bassinger, who died 60 years ago this year, never drank a drop of water for 69 years prior to his death.  A civil war veteran, he died in 1932 at the age of 101.
Bassinger always (said) water is fit to shave with and to take a bath, but as for drinking it, no way.
And he had his own good reason for that view.  In place of water, he drank soda or other liquids but never water.
Bassinger's abhorrence of water dated back to a midsummer day in 1863 when he was a Civil War soldier.  It was then that he was sent by his commanding officer to bring water for the troops who were camped some distance from a small stream after a battle had ended.
Bassinger found the stream polluted by animal carcasses, including a number of horses which had been killed in battle.  The stream was still running red with blood.  Then and there he made a vow that as long as he lived he would never again drink water.  For 69 years, down to the day of his death, he kept his promise.  He drank plenty of coffee, soda and other beverages that contained water, but never partook of water alone.
Bassinger was a remarkable man in many ways.  Up until almost the last days of his life, he was active and spry.  On his 100th birthday he was a guest of the Watertown Rotary Club.  At the time the club met in the lower dining hall of the Watertown Elks Lodge.
As many of our readers know, to enter that area entails walking down a few steps.  When he was brought to the club in a car, Joe said officers of the club, including the late Frank P. McAdams, then president of the Wisconsin National Bank (now Valley Bank South Central's Watertown office), wanted to assist him in walking down the stairs.  He brushed them aside and made it clear he could make it alone.
Rotarians were amazed at his alert mind, his keen wit and his personal resourcefulness at the age of 100.  He made a little speech in which he said life had been good to him.  He said he hoped to live to be 103. He nearly made it.  He was 101 when he died.