website† watertownhistory.org
†††† ebook† History of Watertown, Wisconsin
Dr. M. N. Barber
Barber Home
419 North Washington Street
1848††††† Arrived in Watertown
Dr. M. N. Barber (born in 1821) came to Watertown in 1848, from Racine; he was a native of New York, called himself a botanic eclectic. †(Jefferson County Wisconsin and Its People, 1917.)
Probably the only pure Georgian type home in Watertown, the beautifully preserved brick home at 419 North Washington Street, was built by Dr. M. N., Barber, early Watertown physician and surgeon.† Dr. Barber was born in New York in 1821, lived in Racine for a short time, and came to Watertown to practice medicine in 1848.
1864††††† MOVED OFFICE INTO PETERSONíS BLOCK
04 21†††††† Dr. N. M. Barber has moved his office from Coleís into Petersonís Block.† He is a skillful physician of long and successful practice in this city and vicinity.† Those who desire his service will learn where to find him by referring to his card in this paper.†† WD
1886
05 26†††††† Last Thursday Dr. M. N. Barber's residence was raided by burglars, but the only reward they received was a wallet containing $2.50 in change taken from the doctor's pants pocket, and a supper of bread and milk, which they helped themselves to in the pantry, the first apartment the robbers entered, gaining access to it through the window.† Upon retiring for the night at half past twelve o'clock Dr. Barber had the good fortune to hide his gold watch and a pocket book containing considerable money and thus the thieves missed a rich haul.†† WR
c.1912
Spring.† Fishing in the Street
<![if !vml]>

<![endif]>†† 419 N. Washington, Dr. Barber's Home.
Winter Scene
<![if !vml]>

<![endif]>†
1976
Watertown Daily Times, 06 12 1976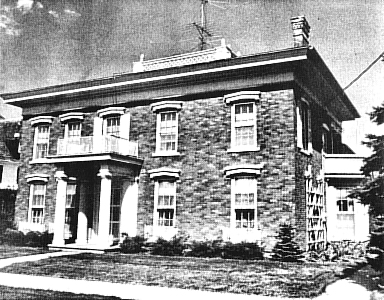 Barber Home owned by Parsons
His home was built in the late 1850's or very early 60's, was added to on three different occasions.† The home was purchased and occupied for many years by the Elliott Parsons family, and was well known here as the Parsons' home.
When the second story of this home was remodeled for two rental apartments, the central open stairway was removed and a new stairs added at the back of the house.† The large central hall remains, however.† There is a southern exposure bay window and a decorative railing atop the house.
Mr. and Mrs. Paul R. Strickler are the third owners of this well over 100-year home.† They purchased it from the Parsons' estate and have since remodeled the kitchen area.

History of Watertown, Wisconsin