website  watertownhistory.org
    ebook  History of Watertown, Wisconsin
         ebook devoted to General Dwight Edward Aultman
This file is under construction
Dwight Edward Aultman
b. Feb 2, 1872 d. 12 12 1929
Married Alma Young Hickok b. 1875 in Florida, MO, d.1952
<![if !vml]>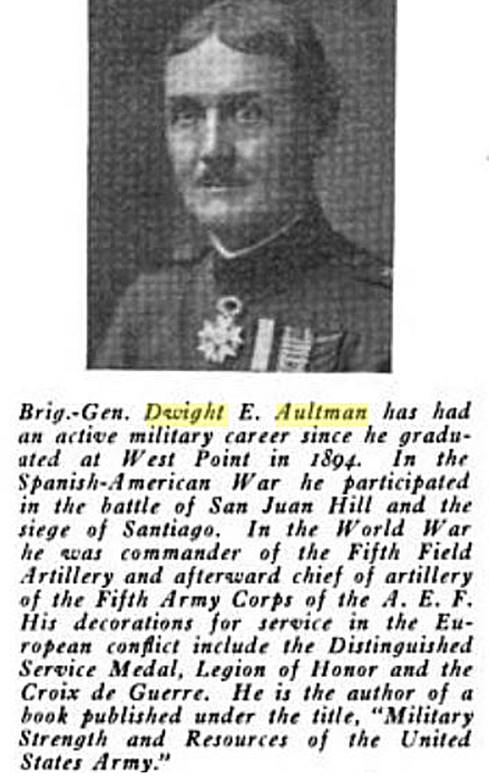 <![endif]>
1922
Brig Gen Dwight E Aultman from the command of Camp Knox Ky. to command 10th infantry brigade at Fort Benjamin Harrison Ind.
Army and Navy Register, 19 17 1922
1929
NYTimes obit
BRIG. GEN. AULTMAN DIES IN WASHINGTON
Was Chief of Artillery, Fifth Army Corps, in Meuse-Argonne Offensive.
HAD A BRILLIANT RECORD
Fought in Spanish War and Served Also in Philippines — Senior Brigadier at Death.
Special to The New York Times.
WASHINGTON, Dec. 12. - Brig. Gen. Dwight E. Aultman, senior Brigadier in the regular army and an artillery officer with a distinguished record in the World War, having served as Chief of Artillery of the Fifth Army Corps, died here today at the age of 57 in Walter Reed General Hospital.
He was born in Allegheny, Pa., on Feb. 2, 1872, and was graduated from West Point in 1894.  During the Spanish-American War he served with the Second Field Artillery in the campaign against Santiago de Cuba, including the battle of San Juan Hill and the siege of the city.
Later he organized the artillery of the newly formed Cuban Army, and in 1906 again went to Cuba, this time with the army of pacification.  Service in the Philippines followed a few years later.  After the World War began, he was sent to Germany as an observer, remaining until April, 1915.  Shortly after the United States entered the war he accompanied A. J. Balfour, now Earl Balfour, on the latter's return to England from his mission to the United States.
General Aultman next, as a Colonel, commanded the Nineteenth Field Artillery at Fort Sam Houston.  He was transferred to the Fifth Field Artillery of the First Division in the Autumn of 1917, joining that regiment in France in October.  He commanded it on the Luneville front in October and November, 1917; on the Toul front from January to April, 1918, and on the Montdidier front in April, 1918.
In October, 1917, General Aultman was appointed chief of the Fifth Army Corps, in which capacity he participated in final operations of the Meuse-Argonne offensive.  After the armistice he served as chief of artillery of the Second Army until the Summer of 1919.  He was on duty with the War Department general staff until April, 1921, when he was appointed a permanent Brigadier General of the regular army.
Published: December 13, 1929 Copyright © The New York Times
Orig article:  http://query.nytimes.com/mem/archive-free/pdf?res=9800EFD81439E43ABC4B52DFB4678382639EDE
\\\    yet to process   \\\\\\\\\\\\
https://www.geni.com/people/Dwight-Altman/6000000034027865951
The following excerpt comes from a November 20, 1924, Lowell Tribune article (page 1, column 5) entitled "Lowell Boys Honored at Indiana": General Dwight E. Aultman pinned pledge ribbons of Scabbard and Sword, honorary college military fraternity on nine officers of the Indiana University R.O.T.C. during the Armistice day celebration at the school. There were nine officers out of twenty-two [who] received the honors, among them being Lieutenant Elliott Belshaw.
Commanding General at Fort Sill OK
1900 United States Federal Census 1900 United States Federal Census Name: Dinglweath Aultman Home in 1900: Artillery Defenses of Havana, Cuba, Military and Naval Forces Age: 28 Birthplace: Pennsylvania Race: White Gender: Male Relationship to Head of House: Head Spouse's name: Alma H Aultman Occupation: View on Image Household Members: Name Age DWIGHT Aultman 28 Alma H Aultman 28 Edith H Aultman 9/12
Source Citation: Year: 1900; Census Place: Artillery Defenses of Havana, Cuba, Military and Naval Forces; Roll T623_1838; Enumeration District: 111. 1910 United States Federal Census 1910 United States Federal Census Name: Alma H Aultman Age in 1910: 38 Estimated birth year: abt 1872 Birthplace: Missouri Relation to Head of House: Wife Father's Birth Place: New York Mother's Birth Place: Missouri Spouse's name: Dwight E Aultman Home in 1910: Fort Leavenworth Military Reservation, Leavenworth, Kansas Marital Status: Married Race: White Gender: Female Neighbors: View others on page Household Members: Name Age Dwight E Aultman 38 Alma H Aultman 38 Edith Aultman 10 Dwight E Aultman Jr. 8 Annie Aultman 2 Mary F Aultman 74
Source Citation: Year: 1910; Census Place: Fort Leavenworth Military Reservation, Leavenworth, Kansas; Roll T624_444; Page: 32B; Enumeration District: 91; Image: 856. DEPARTMENT OF THE NAVY -- NAVAL HISTORICAL CENTER?805 KIDDER BREESE SE -- WASHINGTON NAVY YARD?WASHINGTON DC 20374-5060? General D. E. Aultman Dwight Edward Aultman, born 2 February 1872 at Allegheny, Pa., graduated from the Military Academy in 1894 and was commissioned 2d Lieutenant, Field Artillery. During the Spanish-American War, he fought in the Battle of San Juan Hill and at the siege of Santiago Aultman served at various posts until World War I when he was an artillery commander in France, participating in the Aisne-Marne and St. Mihiel offensives. He received the Distinguished Service Medal, and returned to the United States in 1919 as Commanding General, Camp Knox, Ky. Brigadier General Aultman's last command was the Field Artillery School, Fort Sill, Okla. He died 12 December 1929 at Washington, D.C. (AP-156: dp. 9,950 (lt.); l. 522'10"; b. 71'6"; dr. 24'; s. 16 k.; cpl. 356; trp. 3,823; a. 4 5", 4 40mm., 16 20mm.; cl. General G. 0. Squier; T. C4-S-A1) General D. E. Aultman (AP-156) was launched 18 February 1945 under Maritime Commission contract !by Kaiser Co., Inc., Yard 3, Richmond, Calif.; sponsored by Mrs. Alma H. Aultman, widow of General Aultman; acquired by the Navy and commissioned 20 May 1945, Captain S. P. Swicegood, USCG, in command. After shakedown out of San Diego, General D. E. Aultman got underway 30 June bound for France. She transited the Panama Canal and arrived Marseilles 24 July, embarking troops, nurses, and Red Cross workers for the Pacific theater. The transport sailed 26 July via the Panama Canal and found herself 1 day out of Balboa bound for New Guinea when the Japanese capitulated 15 August. G eneral D. E. Aultman arrived Humboldt Bay, New Guinea 4 September, and carried troops to Manila before returning to Portland 11 October 1945. She was then assigned to the "Magic-Carpet" fleet, contributing her important part to the gigantic task of returning the hundred of thousands of Pacific veterans. She made two "Magic-Carpet" voyages to the Far East before decommissioning at San Francisco 15 March 1946. She was returned to the Maritime Commission for transfer to the Army Transportation Service, serving in the Pacific. Reacquired by the Navy 1 March 1950, General D. E. Aultman joined the MSTS with a civil service crew and resumed her support of American posts in the Pacific. After the outbreak of the Korean War in June 1950, the transport began the vital job of transporting troops to that strategic country. The veteran ship sailed to the western Pacific until she was returned to the Maritime Commission 4 June 1958. She entered the National Defense Reserve Fleet, Suisun Bay, Calif., where she remains. posted by Jan Beatty
Pittsburgh Dispatch 9 May 1890 p. 2, col 5 "Appointed to West Point A letter has been received from Hon. John Dlazell by Dwight E. Altman, of Duquense Heights, informaing him of his appointment as a cadet to West Point. he graduated at the High School last year with high honors."
<![if !vml]>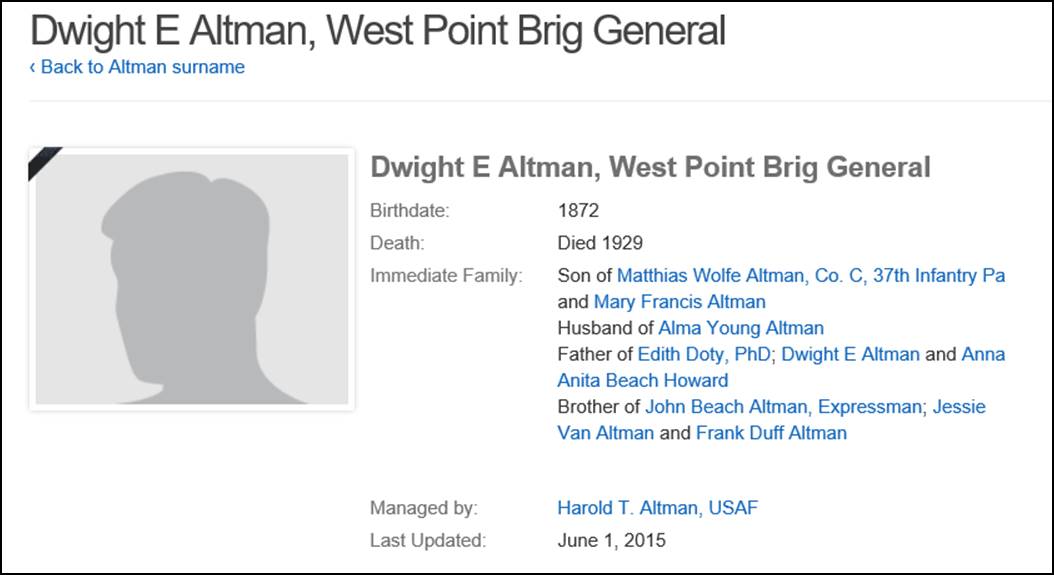 <![endif]>
Above from https://www.geni.com/people/Dwight-Altman/6000000034027865951
<![if !vml]>
<![endif]>
Above from http://www.ancestry.com/genealogy/records/dwight-e-aultman_100441401
This file is under construction

History of Watertown, Wisconsin