website  watertownhistory.org
 ebook  History of Watertown, Wisconsin
Andreas Ambrose, Corporal
<![if !vml]>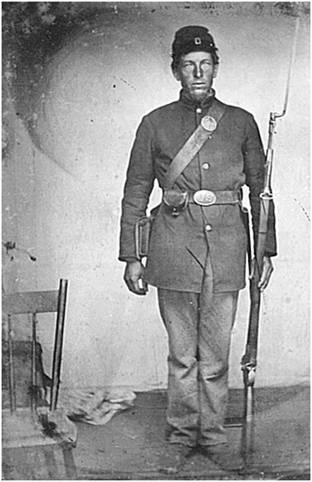 <![endif]>On January 29, 1910, Andreas Ambros (Andrew Ambrose), an old and respected resident of the town of Milford, passed away at the home of his son-in-law at the age of 82 years, 11 months and 6 days.  He had been a member of St. Henry's for more than 40 years.
<![if !vml]>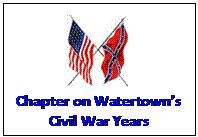 <![endif]>The funeral took place at St. Henry's Catholic Church with burial in the parish cemetery.
The deceased was born in Neisse, Selicia (Silesia), Germany, February 23, 1827.  In 1852 he was married to Miss Johanna Hoffman, who preceded him to the better world in November of 1907.  In 1854 he came to America to seek his fortune and he resided on different farms in the towns of Milford and Aztalan. 
Their happy union was blessed with nine children, four sons and five daughters, of whom one son and two daughters died during childhood.
When the Civil War broke out he enlisted in Co. E., 20th Wisconsin volunteer infantry and served in the war from 1862 until its end in 1865.
In 1873 he settled on a farm four miles south of Watertown in the town of Milford where he lived until his death.
He was a devoted husband, a loving father and a good citizen, who was loved and respected by all who knew him.
The six surviving children comprised three sons and three daughters: 
Edward of the town of Farmington
Mrs. Adolph (Agnes) Baurichter of the town of Milford
August of the state of Washington
Ida of Watertown
Anna, who resided at home
Henry of Cambridge
He was further survived by fifteen grandchildren and five great-grandchildren.
Six of his grandsons acted as pallbearers:
Edward, Joseph and Lawrence Ambros and
Edward, Emil and Herbert Baurichter
Cross References:
Veteran burial listing, St. Henry's Cemetery
Additional information on the Twentieth
<![if !vml]>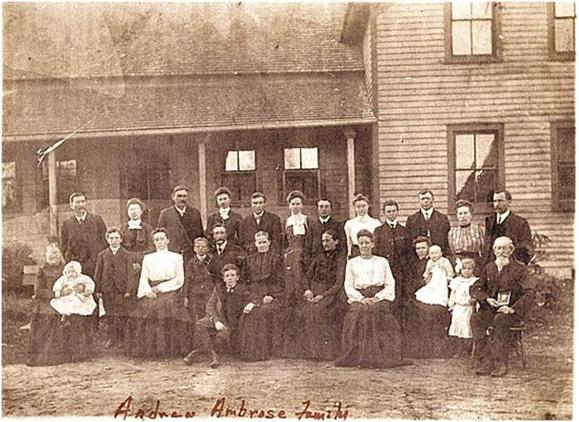 <![endif]>
Family Picture
Andreas Ambrose (front, right) (holding Civil War medal?), c1907
Service Record
Civil War
Mustered in August 12, 1862
Mustered out July 14, 1865
Residence:  Aztalan, WI
Brief Sketch on Regiment's History
20th Wisconsin
The Twentieth Regiment of infantry was organized and its final muster into the service of the U.S. completed at Camp Randall, Madison, Wisconsin, on the 23rd day of August, 1862.   The regiment left that state August 30 and joined Gen. Herron's Brigade at Rollo, Mo, Sept 6, and was sent on a march to southwestern Missouri, participating in the campaign then being conducted against the confederates by the Army of the Frontier in southwestern Missouri and northwestern Ark.  Took part in the battle of Prairie Grove, Ark, Dec 7, 1862, after which the Twentieth continued in active service in southwestern Missouri until June following, when the regiment was transferred to Vicksburg and took its place in the trenches June 15, 1863, remaining a part of the besieging forces until the surrender, July 4, following.
After Vicksburg the regiment was in service on various expeditions in Miss. and Louisiana, including one to Natches, Port Hudson and Norganza.  Later in the year the Twentieth accompanied the Texas expedition which left New Orleans Oct 26, 1863, disembarking at Brazos, Santiago, Texas, and going on duty at or near Brownsville, Tex, on the Rio Grande, where it remained until the 1 day of August following.  During this time it participated in many expeditions, including a two day excursion across the Rio Grande into Mexico, Jan. 12-14, 1864.  Returning to New Orleans in Aug. following the Twentieth formed a portion of the land forces accompanying Admiral Farragut's Expedition against the Confederate forces in Mobile Harbot in Aug. 1864, the regiment participated with the land forces investing Ft. Morgan until the surrender of that stronghold on Aug 23, 1864, and continued thereafter with the Union forces in southern Ala.  Took part in the investment of Spanish Fort, March 27 to April 8, 1865, and the reduction and capture of Fort Blakely April 9, 1865.
In the latter part of June the Twentieth was situated at Galveston, Texas, where it remained and performed the usual duties of garrison service until mustered out of the service of the U.S. July 14, 1865.  Reached Madison July 30, and was disbanded August 9, 1865.