This file part of www.sainthenryparish.org website
Jeffery J. Wuchterl
1965 - 2009
<![if !vml]>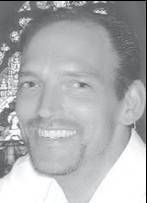 <![endif]>
Jeffery J. Wuchterl, 43, of Watertown, died Monday, Feb. 9, 2009, at his home following a courageous battle with cancer.
A Mass of Christian burial will be held on Friday at 11:30 a.m. at St. Henry Catholic Church in Watertown with Father Brian Wilk officiating.  Family and friends may call at the church on Friday from 9:30 a.m. until the time of the service.  Burial will be in St. Henry's Cemetery.
In lieu of flowers, memorials would be appreciated.
The Hafemeister Funeral Home is in charge of arrangements.
Jeff was born in Waukesha on March 16, 1965, son of Gerald F. and Margaret A. (Bautz) Wuchterl.  On April 19, 1997, he married Kathy Schulenberg in Watertown.  He was a 1983 graduate of Watertown High School and attended Waukesha County Technical College for his refrigeration certification.  He was employed at Taylor Enterprises in Ixonia.
Jeff was a member of St. Henry Catholic Church.  He was an avid bowler, enjoyed fishing, being on the ocean and working with his very creative hands.  Jeff loved spending time with his wife and family.
Jeff is survived by his wife, Kathy of Watertown; his son, Ryan (Ashley) Parish of Alexandria, Minn.; two stepdaughters, Karissa and Kaylin Rosenow of Watertown; nine sisters and brothers, LeeAnn (Jim) Kreitzmann of Puyallup, Wash., Teri (Pat) O'Brien of Milwaukee, Jim Wuchterl of Watertown, Barry (Leah) Wuchterl of Watertown, Kay Jones of Oconomowoc, Mary (David) Zabel of Watertown, Gerilyn (Jeff) Kunesh of De Pere, Kent (Janene) Wuchterl of Minneapolis, Minn., and Chad (Tanya) Wuchterl of Milwaukee; his brothers-and sisters-in-law, Bruce Schulenberg of Madison, Rich (Theresa) Schulenberg of Madison and Michelle Lynch of Waterloo; nieces, nephews, other relatives and friends.
Jeff was preceded in death by his parents.